stoopid chess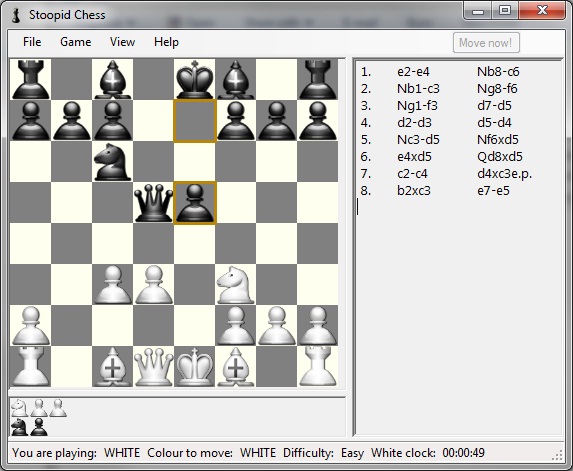 http://sourceforge.net/projects/stoopidchess/
Read more
This topic belongs to the forum
Chess2U is a place to discuss and share anything related to Computer Chess! So you will need Chess2U to keep up with Chess progress!
Numbers of topics : 11865
Numbers of messages : 80724
Numbers of users : 6775
Numbers of points : 1892
Prédateur UCI Chess Engine. by Julien Marcel http://predateur-chess.blogspot.com/
MINNOWS 2013 AMD Phenom II 6 core ChessGUI 256mb hash 3-4-5 piece tablebases Ponder off WorldClass2012-3.cgb book (limited to 8 move depth) 40 moves in 22 minutes repeating (adapted for the CCRL) All engines 64-bit where available 10 cycles 90
Pirarucu ====== Homepage : https://github.com/ratosh/pirarucu Author : Raoni Campos A Kotlin Chess Engine. Protocol : UCI Version : 1.2 ELO : 1800 Releases : https://github.com/ratosh/pirarucu/releases Download cross-platform JAR
What is the difference between two regarding strength and speed??
Forums from same category